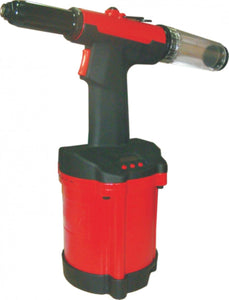 ZT2318 1/4" Air Hydraulic Riveter
PRODUCT DESCRIPTION 
 ZT2318 1/4" Air Hydraulic Riveter-W/Digital Module
Max. 1/4"(6.4mm) blind rivets in all materials
DO NOT apply air pressure over 110 psi / 7.5 bar to these tools.
FEATURES
Most advanced patented digital module with features such as: instant setting capacity verification, air supply condition and rivet setting cycle count per shift.
Automatic service/maintenance reminder.
Tool misuse and /or abuse exceeding design specifications can be detected automatically through the digital module.
Constructed using our "patented" modular unit clamshell assembly system, these tools are designed for ease of service and operator comfort.
Patented Broken mandrel vacuum collection system for the cleanliness and safety of work area.
Forged and heat treated Aluminum alloy hydraulic section for greater strength and durability.
Easy adjustable Head & Nut designed for obtaining the most effective stroke.
Ergonomic texture coated composite housing for the operator's grip.
Air inlet swivel designed for maneuverability.
| | | |
| --- | --- | --- |
| Traction Power | Ibf(kgf) | 5000(2300) |
| Stroke Length | mm | 18 |
| Net Weight | lbs(kgs) | 5.6(2.5) |
| Operating Air Pressure | PSI(bar) | 90(6.2) |
| Air Inlet Size | Inch-NPT/PT | 1/4 |
| Min. Hose Size | Inch(mm) | 3/8(10) |
| Nosepieces Equipped | Inch(mm) | 3/16(4.8)1/4(6.4)Monobolt 3/16(4.8)1/4(6.4) |
DOWNLOADS & VIDEOS