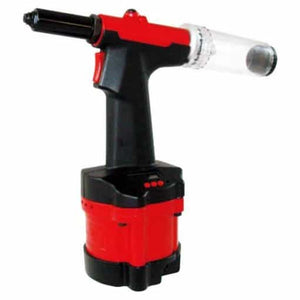 ZT2021D 3/16, 1/4 inch Air Hydraulic Riveter (Digital Reporting)
FEATURES
Advanced patented digital module shows the rivet tool's setting capacity instantly under various air supply conditions and shows the rivet setting cycles performed during a working period.
It will also remind operators when to do service or maintenance to the tool in proper intervals.
It will help to end warranty issue especially if the tool has been misused or abused with abnormal high air pressure which exceeds the design specifications.
Built with patented modular units assembled in a composite clam shell housing for easy tool servicing.
Patented mandrel vacuum collection system for the cleanliness and safety of the work area.
Forged and heat treated Hydraulic Section made of aluminum alloy for rigidity.
Easy adjustable head & nut designed for obtaining the most effective stroke.
Ergonomic texture coated composite housing for operator comfort.
Swivel air inlet design for maneuverability during work.
Specification
Traction Power: 4400 lbf (2000 kgf) 
Stroke Length: 21 mm
Net Weight: 5.6 lbs (2.5 kgs) 
Operating Air Pressure: 90 PSI (6.2 bar) 
Air inlet Size: 1/4 Inch-NPT/PT
Min. Hose Size: 3/8 Inch (10 mm) 
Nosepieces Equipped: 5/16 Inch (7.8 mm)