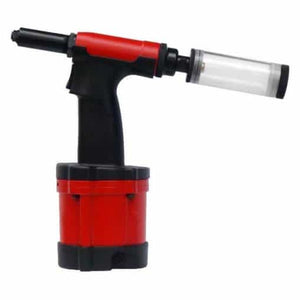 ZT-1020 Economy Do-All Riveter 3/32"-1/4"
ZT-1020 Air Hydraulic Blind Rivet Installation Tool
Features
Module unit mechanism enables more common parts to be used in similar designed tools.
Designed with patented modular units assembled in composite clam shell housing for operator comfort and ease of service.
Ergonomic texture coated composite housing for operatoräó»s comfort.
Build-in exhaust muffler to minimize the tool noise efficiently.
Rocker type trigger for ease of operational control.
Perfect tool for automotive & general industries.
Optional Jaw Pusher & Nose Pieces for small size rivets.
Applications
Wherever the fastening methods like: welding, sheet metal screw, bolt, nut, washer, tubular, semitubular and solid rivets and adhesives are applied, can be substituted by blind rivets.
All models above are good for setting standard blind rivets and structural blind rivets.
Specification
Traction Power : 2,248(1,022) Ibf(kgf)
Stroke Length : 43/64(17) inch(mm)
Net Weight : 4.3(1.95) lbs(kgs)
Operating Air Pressure : 90(6.2) PSI(bar)
Air inlet Size : 1/4 Inch-NPT/PT
Min. Hose Size : 3/8(10) Inch(mm)
Nosepieces Equipped : 3/32(2.4)1/8(3.2)5/32(4.0)3/16(4.8)1/4(6.4) Inch(mm)